Advancing STEM Education in Iraq
Al-Rakeezeh – Exclusive
The Iraqi education system traditionally comprises primary, secondary, and tertiary levels. Curriculum determined by the Iraqi Ministry of Education. The curriculum often includes subjects like Arabic language, mathematics, science, social studies, history, religious studies, and physical education. -some of them are already part of the STEM education- The curriculum might also include subjects specific to the region, culture, and history of Iraq.
What is STEM education?
STEM stands for Science, Technology, Engineering, and Mathematics. It is an interdisciplinary approach to education that combines these four disciplines into a cohesive learning paradigm. Additionally it has been considered s one of the Guiding principles for learning in the twenty-first century. STEM education aims to integrate real-world applications, critical thinking, problem-solving skills, and creativity into the learning experience.
Science: This encompasses the study of the natural world, its processes, and phenomena. It involves conducting experiments, making observations, and understanding the underlying principles that govern the universe.
Technology: Technology refers to the application of scientific knowledge to create tools, systems, and solutions that enhance human life. It includes everything from computers and smartphones to advanced medical equipment and renewable energy technologies.
Engineering: Engineering involves designing, building, and improving systems, structures, and processes to solve practical problems. Engineers use scientific principles to create solutions that address societal needs.
Mathematics: Mathematics is the language of science and provides the foundation for understanding patterns, relationships, and quantitative aspects of the world. It is essential for analyzing data, making predictions, and solving complex problems.
As has been noted, STEM education encourages students to develop a holistic understanding of how these disciplines intersect and complement each other. It emphasizes hands-on learning, collaborative projects, and practical application of knowledge. By fostering skills such as critical thinking, problem-solving, teamwork, and innovation, STEM education aims to prepare students for a wide range of careers and equip them to tackle real-world challenges.
STEM education is not limited to any specific age group; it spans from early childhood education to higher education and beyond. The integration of STEM principles into the curriculum aims to equip students with the skills and mindset needed to excel in fields that are driving innovation and advancement in today's world.
STEM Education in Iraq:
STEM education is a critical focus area for many countries, including Iraq. Iraq recognizes the importance of preparing students for careers in science, technology, engineering, and mathematics fields to contribute to national development and innovation. However, there have been challenges in terms of resources, infrastructure, and quality of education due to factors like conflict and economic instability.
Efforts have been made to improve STEM education in Iraq, including teacher training programs, curriculum updates, and initiatives to promote interest in STEM subjects among students. Universities and institutions in Iraq have been working on research and development projects in various STEM fields, but these efforts can be constrained by factors such as limited funding and access to advanced facilities.
Challenges:
Iraq has faced various challenges in its education system, including the STEM sector. Some of these challenges include:
Infrastructure and Resources: Resources, laboratories, and modern teaching equipment can be lacking in many schools, especially those in rural or conflict-affected areas.
Teacher Training: Ensuring that teachers are well-trained and up-to-date with the latest developments in STEM fields is crucial. However, teacher training programs might not always be easily accessible or comprehensive.
Security and Stability: Ongoing security concerns and political instability can affect the overall educational environment, including STEM education.
Economic Challenges: Economic factors can impact the availability of funding for educational programs and resources.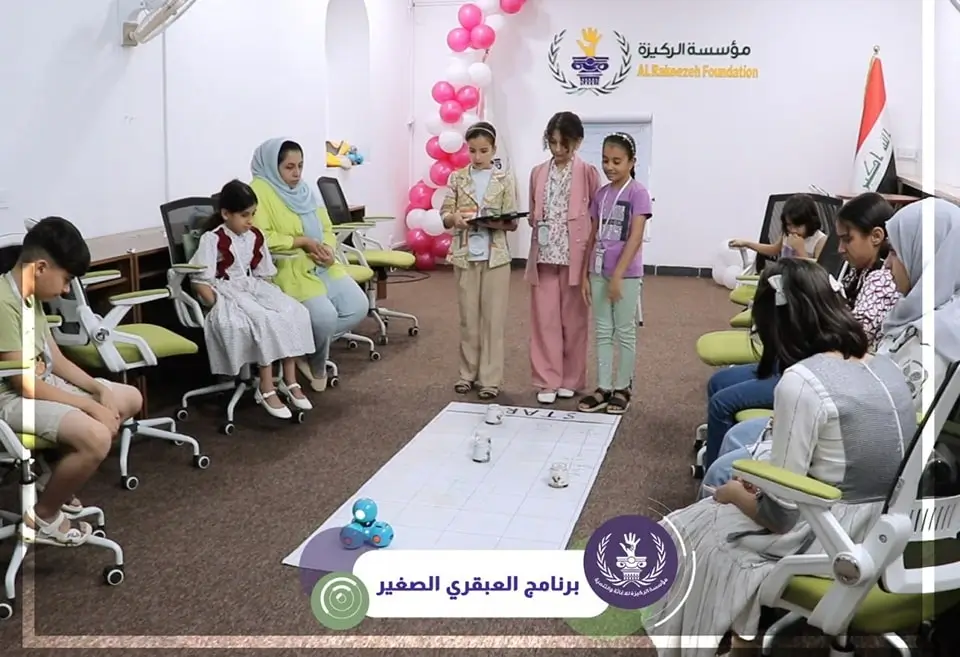 Civil Society Role in Advancing STEM Education in Iraq
In countries like Iraq, where rebuilding and modernization are ongoing, the role of civil society in shaping and improving education, including STEM education, cannot be overstated.
Advocacy and Awareness
Civil society organizations act as powerful advocates for STEM education, raising awareness about its pivotal role in national development. By highlighting the importance of STEM subjects and advocating for improved resources and infrastructure, these organizations help governments and educational institutions prioritize and allocate resources for quality STEM education.
Supplementing Curriculum
Beyond the confines of traditional classrooms, civil society organizations play a crucial role in enhancing the STEM curriculum. They organize workshops, hands-on activities, and educational programs that complement classroom learning. These initiatives provide students with practical exposure and real-world applications of STEM concepts. Fostering a deeper understanding and appreciation of these subjects.
Teacher Training and Professional Development
In the dynamic world of STEM, keeping educators updated on the latest teaching methodologies and technological advancements is imperative. Civil society organizations step in to provide teacher training and professional development programs. By equipping teachers with the necessary skills and knowledge, these programs enhance the quality of instruction and inspire innovative teaching approaches.
STEM Promotion and Engagement
Civil society groups actively engage students by organizing events that ignite their passion for STEM subjects. Science fairs, robotics competitions, and coding workshops create interactive and enjoyable learning environments. These events not only bolster students' interest in STEM but also nurture their problem-solving and critical-thinking abilities.
Partnerships for Progress
Collaboration between civil society organizations and educational institutions creates a synergy that enhances the quality of STEM education. By offering resources, technology, and expertise, these partnerships bridge gaps and elevate educational standards, thereby positively impacting the learning experiences of students.
Influencing Policy and Accountability
Civil society's engagement with policymakers and educational authorities ensures that STEM education remains a priority on the national agenda. By advocating for reforms that enhance the quality and relevance of STEM education. These organizations contribute to policy development and implementation. They also monitor progress and hold institutions accountable for providing high-quality education.
Conclusion
As Iraq strives to embrace progress and innovation. the role of civil society organizations in shaping the trajectory of STEM education cannot be understated. Through advocacy, supplemental programs, teacher training, and fostering inclusivity, these organizations serve as catalysts for positive change. Their collaborative efforts with educational institutions and policymakers hold the potential to transform STEM education in Iraq. Paving the way for a more prosperous and knowledge-driven future.