Small Sustainable Projects and Their Role in Combating Poverty
Al-Rakeezeh – Exclusive
Small projects play a pivotal role in achieving sustainable development and combating poverty in many countries around the world. These projects involve the concept of small-scale initiatives aimed at making a positive impact on the local economy and improving the living standards of disadvantaged communities. This idea stems from the spirit of entrepreneurship and the desire to create positive change within society.
The Relationship Between Small Projects and Sustainable Development
Small projects have a strong relationship with sustainable development as they play a vital role in balancing the economy, environment, and society. These projects significantly contribute to achieving sustainable development goals and promoting long-term sustainability. They do so in several key areas:
Sustainable Economy: Small projects contribute to improving the local economy and diversifying sources of income. By providing employment opportunities and developing local business activities, these projects enhance the local economy and achieve sustainable growth.
Environment and Environmental Sustainability: Small projects encourage environmentally sustainable practices. Through adopting green practices and using sustainable technologies, these projects can reduce negative environmental impacts and contribute to preserving the environment for future generations.
Community and Social Sustainability: Small projects enhance community engagement and encourage collaboration among individuals. By providing employment and training opportunities, these projects can improve living standards and promote community well-being.
Skill Development and Entrepreneurship: Small projects contribute to developing the skills of youth and guiding them towards entrepreneurship. Empowering young people to implement their ideas and projects stimulates innovation and enhances their role in achieving sustainable development.
Balancing the Three Dimensions: Small projects merge economic, social, and environmental dimensions, promoting a balance among these fundamental aspects of sustainable development. Their positive impact extends across generations, contributing to long-lasting development.
Income Enhancement and Poverty Alleviation: Small projects offer individuals opportunities to increase their income and improve their quality of life. By providing employment opportunities and diversifying income sources, these projects contribute to poverty alleviation and economic sustainability.
The Role of Small Projects in Combating Poverty
Small projects stand out for their focus on skill development and employment opportunities in underprivileged areas. These projects provide youths and adults with the chance to execute their own initiatives and improve their income. By funding small projects, individuals can turn their small project ideas into tangible realities that contribute to local economic development.
Small projects serve as catalysts for sustainable development by promoting community growth and creating employment opportunities. By fostering the skills of youth, guiding them toward innovation and entrepreneurship, these projects lay the foundation for sustained economic growth.
The Role of Civil Society Organizations in Supporting Small Projects
Civil society organizations play a vital role in supporting and funding small projects in Iraq and worldwide. These organizations aim to direct investments toward successful youth and marginalized projects. Small project initiatives are integral to the strategies of civil society organizations in developing their communities.
By developing Iraq's economy and enhancing local economic opportunities, civil society organizations work to improve living conditions in the country. These organizations offer direct support for implementing innovative small projects that enhance income and achieve sustainable development.
Iraq's Experience in Supporting Youth Projects and Combating Poverty
Iraq has embarked on a unique journey of developing developmental projects targeting youth and promoting local development. Small project initiatives in Iraq seek to tangibly improve living standards by supporting youth projects and creating employment opportunities.
Civil society organizations play an effective role in directing investments toward small projects, providing the necessary technical and financial support for their success. Promoting local development through small projects contributes to achieving sustainable development and combating poverty in Iraq.
Success Story: Project "Yanhad" (Rise)
One of the success stories of small projects in Iraq is seen in agricultural projects like the "#Yanhad" project. Funded by the European Union through the French Expertise Organization in partnership with the local organization "Al-Rakeezeh for Relief and Development," the project aims to support livelihoods and food security for those affected by the COVID-19 pandemic.
The town of Roshidiya in Nineveh Province was chosen to provide specialized training courses for both male and female farmers. These courses focus on modern agriculture techniques, improved seed and fertilizer usage, and more to enhance agricultural production and empower the farmers with knowledge.
Additionally, an agricultural cooperative association was established to develop the agricultural landscape in the region. This association serves as a supportive hub for farmers with various training and guidance activities, including a women-focused section that empowers women in Roshidiya through diverse training and awareness initiatives.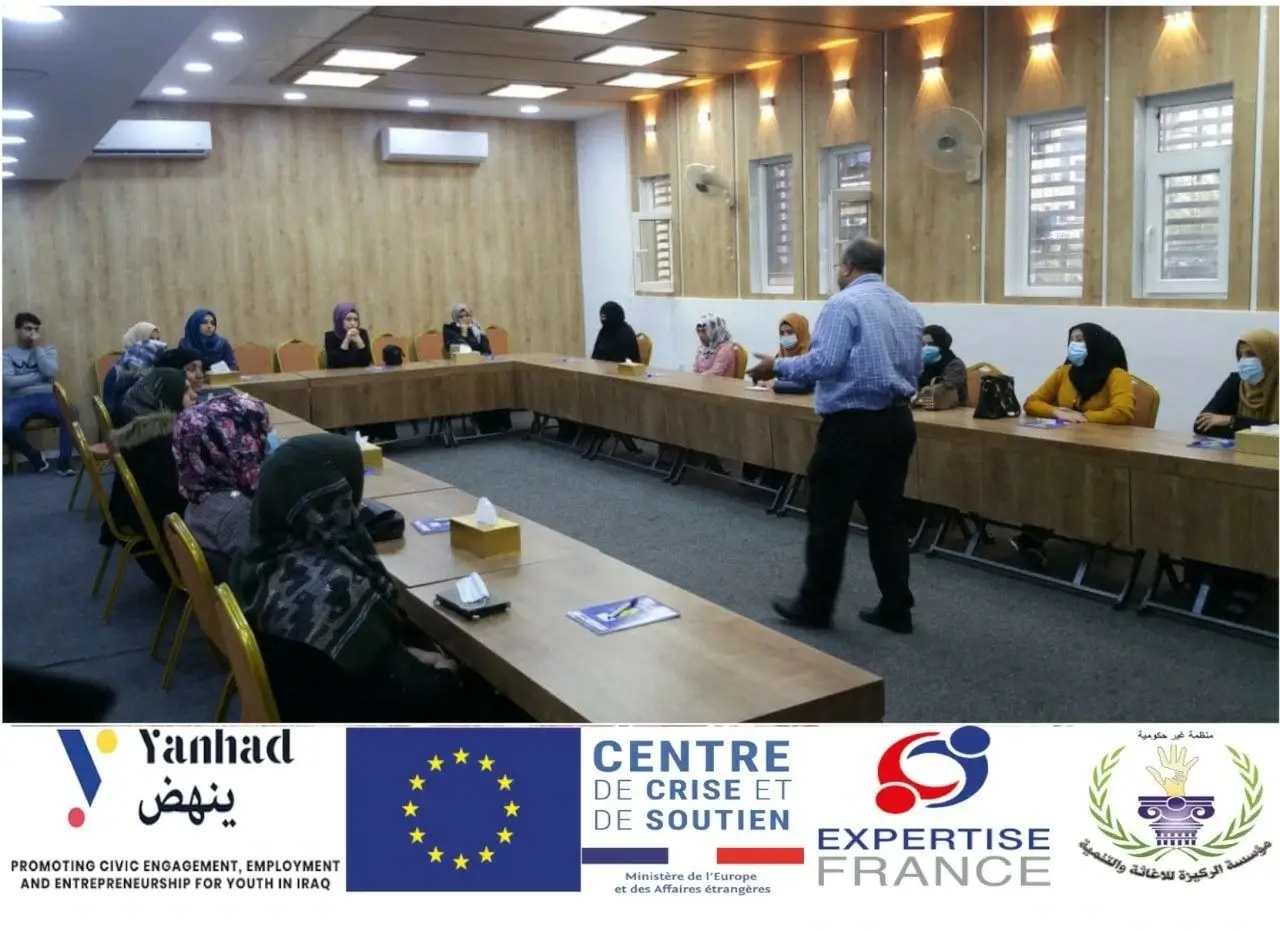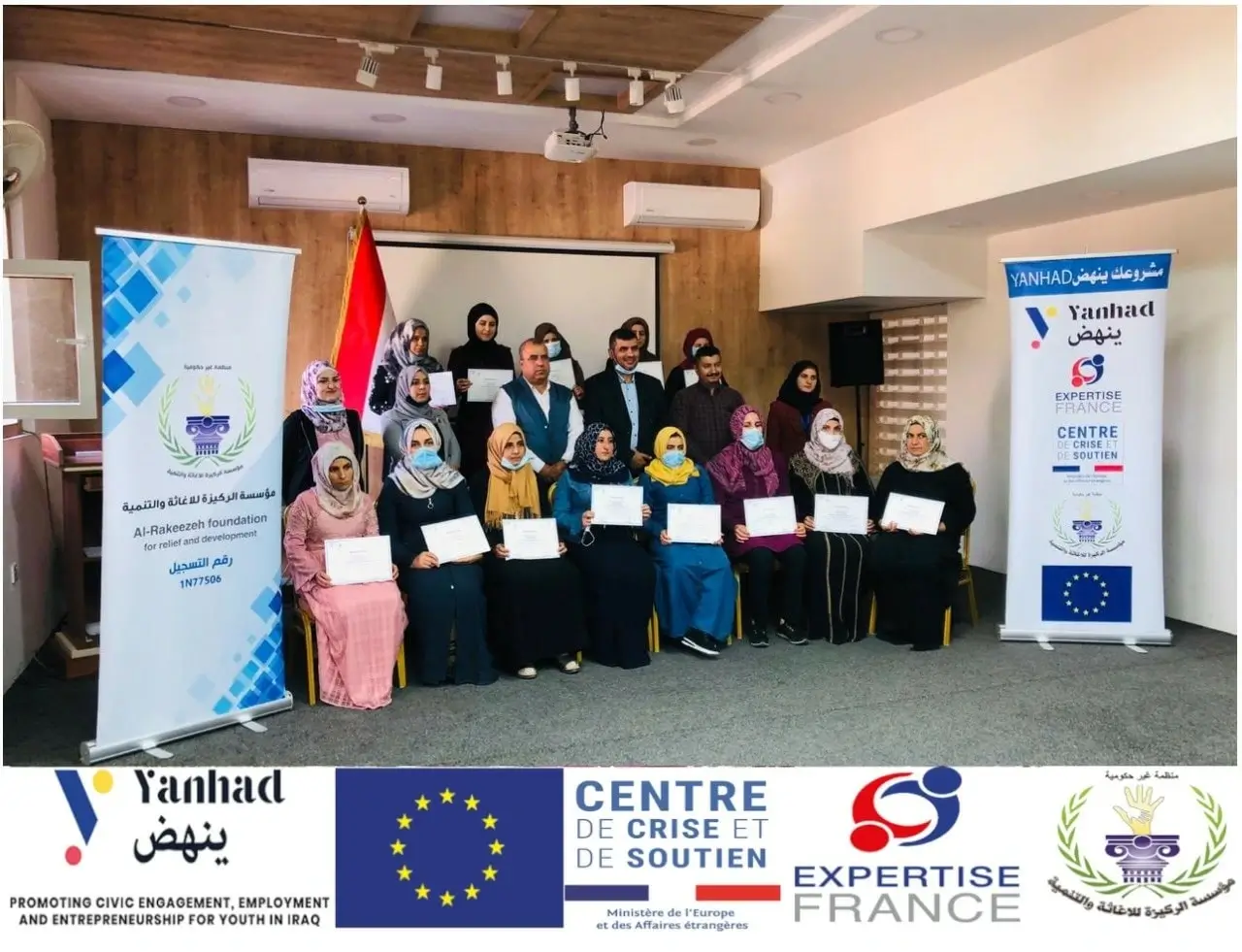 Conclusion
The significance of small projects in combating poverty lies in their emphasis on providing employment opportunities, skill development, and boosting the local economy. Civil society organizations play a crucial role in supporting these projects and promoting sustainable development in Iraq. By leveraging successful experiences in the realm of small projects, significant improvements can be achieved in living conditions and poverty alleviation in Iraq.