Education in Iraq is one of the most important axes of economic and social development. In the past, it was specialized only in religious and jurisprudential education. Formal education began when Iraq entered the modern era, as it had a modern appearance, and the first school was established in Baghdad in 1869.
After that, many schools became available in all the governorates of Iraq, and the first university was established in Iraq in 1958. When the invasion of Iraq began in 2003, education began to decline and its level decreased greatly, which was a great difficulty and problem in the lack of resources, poverty, corruption, and unemployment. Then the Iraqi government tried to overcome these difficulties and The necessary measures are taken, such as providing stability and security in order to protect students from any harm, increasing the number of resources, and providing job opportunities, in addition to combating corruption.
The academic reality in Iraq
The academic reality in Iraq is considered the worst reality due to facing many problems and difficulties, such as the problem of weak professional development of teachers. Most of them do not take adequate training to make them better at modern methods, as they face a shortage and severe decline in infrastructure, as well as a shortage of school supplies such as desks and textbooks, including… Also, dropouting rates are high in government schools, which leads to scientific damage to schools, especially private schools, which statistics indicate, as they say that the dropout rate has reached 70%. There is a problem with the poor quality of education because it relies on traditional memorization, which most students suffer from.
Achievements of Rakiza Foundation
Al-Rakiza Foundation is a non-governmental institution and is still always working to achieve excellence, leadership and preference in granting humanitarian jobs to give it a cohesive, cultural and conscious society and secure a decent life for it and liberate it from the difficulties it faces. It has been creative in achieving amazing achievements, establishing health centres, various hospitals and schools and rehabilitating them in most cases. Countries such as Syria, Iraq, Yemen, Sub-Saharan Africa, Sudan, and the rest of the world have also established more than 120 projects to provide water and have also provided safe drinking water in forgotten areas. The project has been called "Soukia Al Rahmah."
Al-Rakiza Foundation worked to secure food and many medical and therapeutic medicines for all patients and needy people from other regions. It also supported sustainable development projects such as industrial and agricultural projects and other projects that are considered among the best humanitarian projects because it worked to provide all necessities such as shelter, food and water for the population and tried to improve quality of basic social life.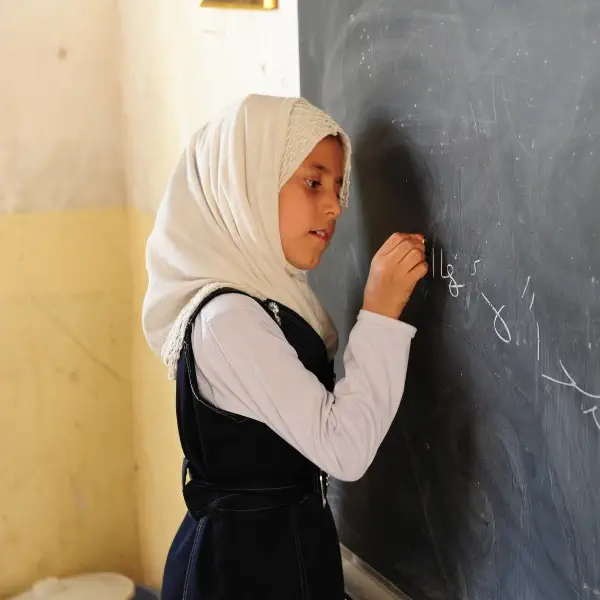 Education in Iraq
The Ministry of Education supervises education in Iraq, where the student stage begins with the primary stage and then ends with the secondary stage. The academic reality in Iraq is a bad reality, which has led to weak mental and intellectual skills, as the Iraqi population does not have sufficient information and skills, and thus this has led to a decline in the students' levels of educational attainment and led to a high level of unemployment, as there are no job opportunities of any kind for Iraqi university students. The cadres have begun the process of searching for the problems and difficulties of education in Iraq and have begun to improve the education law and find solutions to solving them.
Government schools in Iraq
There are government schools in all governorates of Iraq, the number of which reaches 26 thousand Iraqi schools, where there are also many problems such as the lack of educational supplies such as desks, books, etc. and the lack of a good staff to teach students, which leads to a low level of success among them and high levels of unemployment and failure. To achieve the goal of learning in Iraq Al-Rakiza Foundation is trying to provide all the supplies and develop educational curricula.
Private School
Private schools represent 10% of public schools in Iraq, as they are of high quality and are characterized by the presence of good-quality supplies of paper, books, chairs, etc. They are also blessed with well-experienced staff who are able to raise the level of students to the highest level, and as they have the freedom to choose the curricula for study, they also face problems. There are many difficulties, such as weak government oversight, which has led to a deviation from educational standards. It also faces the problem of high tuition fees, which are difficult for most Iraqi families to afford.
Free education in Iraq
Schools provided free education to all families in the world, which is the right of every Iraqi citizen. For this reason, education was completely free, but there are difficulties, some problems that exist in schools and for which we are trying to find solutions. Among these problems are unemployment, poverty, and deviance in schools, which lead to the deprivation of children of their rights and opportunities is free education in Iraq, and there is a shortage in the number of schools that are far away or in remote areas.
Reasons for weaknesses of education in Iraq
The reasons for the low level of education in Iraq are varied where weak education in Iraq and corruption may have led to deterioration and loss of education funds and some social pressures. The lack of cohesion of society, in addition to that, most children want to work instead of education, which has led to a weak educational level and weakness of improvement of education in Iraq.
Educational staff
The educational staff consists of administrators, employees, and teachers who work to raise awareness and educate students, especially in the education sector, where they face many problems and disasters that prevent education in Iraq, where appropriate measures are taken to solve the problems, such as combating corruption, providing job opportunities for parents, and establishing schools for education in liberated areas.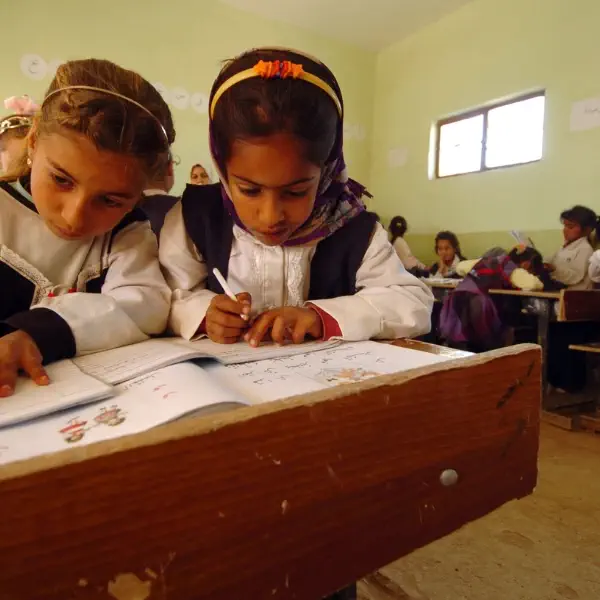 UNESCO report on education in Iraq
The UNESCO report on education in Iraq, issued in 2023, explains all the difficulties and problems that education faces, such as corruption, poverty, the spread of bribery in transactions, the abundance of wars, social and economic pressures, and a lack of commitment to equality, in addition to the decline in the educational infrastructure, where effective systems of oversight are being established to monitor schools to combat corruption and reform the educational system. In addition to fully training teachers and qualifying them well on teaching methods and delivery methods, these are among the most important things that must be paid attention to in order to raise the level of positive aspects of education in Iraq.
Learning problems in Iraq and ways to address them
Iraqi education faces many difficulties and problems that negatively affect the educational level due to the war that Iraq waged in 2003. There are several reasons for these problems, such as the loss of education funds, making children work instead of teaching in schools, their desire to study decreased, and they do not go to schools. Therefore, some suggestions must be made. Solutions to these problems and disasters include imposing sanctions on anyone who encourages corruption, monitoring all teachers to ensure the quality of education in government schools, and rehabilitating school buildings in all liberated areas.
Positives of education in Iraq
Despite the problems faced by education in Iraq, there have been many positive effects, such as interest from the authorities concerned with education and work to raise its level to a high level in the country, as well as training the educational staff well, so that the number of teachers qualified to teach students is large, which will increase the rates of literacy in reading and writing where It reached about 94% in 2023, in addition to providing free compulsory primary education, which opens great opportunities for education for most children without paying financial fees. Also, many institutions, programs, and practical and scientific training programs are available, and there is great interest in educating people with special needs. The Iraqi government has planned to improve the educational process through He paid huge sums of money to improve the educational sector and devoted his efforts to enhancing these positives even more.
Reasons for the deterioration of education in Iraq
UNESCO stated a report on education in Iraq, including the causes of its deterioration and methods of treatment. The causes of the deterioration of education varied, as Iraq witnessed social and cultural pressures, problems of corruption, poverty, unemployment, wars, and bribery, in addition to the weak educational level. The Iraqi government is striving to solve these problems, improve the level of education, and provide educational opportunities for all.
Education's stages in order in Iraq
We will show you the educational stages in order in Iraq. They are organized stages, as each student must pass one stage after another. The first stage is the primary stage, which is from the beginning of the first grade to the end of the sixth grade. The second stage is the intermediate stage, starting from the first intermediate grade to the third intermediate grade, and in this stage he studies basic subjects such as the Arabic language, mathematics, the English language, science, education, geography, history, national education, physical education, and religious education. As for the third stage, it is the secondary stage, which begins from the first year of secondary school and ends at the end of the third year of secondary school. It is divided into two sections, the general secondary education section, where the student studies the subjects of mathematics, science, and languages. Religious, patriotic, physical, geography, and history education. As for the secondary vocational education department, the student studies applied subjects that are necessary for him upon entering the labor market.
Then comes after these stages the stage of enrolling in universities or institutes according to the student's desire.